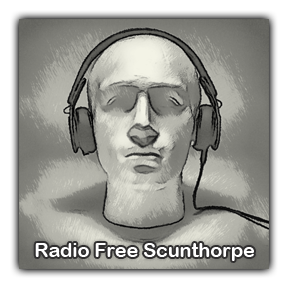 Radio Free Scunthorpe
391 present a meditation on the theme of amateur radio.

By parodying mass media and exaggerating certain formal aspects inherent in our contemporary society, we have created several practically identical works, upon which thoughts that have apparently just been developed are manifested: notes are made and then crossed out again, 'mistakes' are repeated.
Our works focus on the inability of communication which is used to visualise reality, the attempt of dialogue, the dissonance between form and content and the dysfunctions of language. In short, the lack of clear references are key elements in the music.

Tracklist
01 Ham Radio
02 Black Leather Wedding Dress
03 Islands On The Air
04 Tritonic
05 Impractical Wireless
06 Numbers Station
07 When The Dust Settles
08 UBR
09 Quenching The Arc
10 Silence and Darkness
11 Bouncing Off The Moon
12 Furious Driving

Composed, performed, engineered and produced by 391 at Waterden Studios, Stenhousemuir

Dedicated to the memory of Martin Neish (Protag)