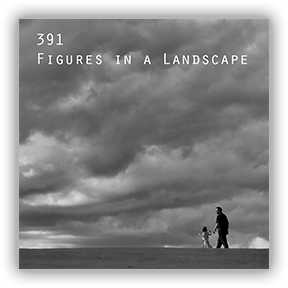 Figures In A Landscape
391's latest work explores the relationship between Jungian archetypes and emotional memories.
With influences as diverse as Eduardo Silva Barros and Crunchy Tramp, new synergies are generated from both orderly and random narratives.
For many years, 391 have been fascinated by the endless oscillation of the mind. What starts out as vision soon becomes finessed into a hegemony of defeat, leaving only a sense of chaos and the unlikelihood of a new order.
As temporal replicas become transformed through undefined and academic practice, the listener is left with an impression of the bleeding edge of our future.
Tracklist
01 Dangerous
02 Figures in a Landscape No. 2
03 Impossible Rhubarb
04 Oxen of the Sun
05 El Jardinero Solitario
06 Figures in a Landscape No. 4
07 March of the Morbidly Obese Children
08 In The Forest of Souls
09 Absent-minded Judas
10 Ten of Swords Reversed
11 I've Fallen (And I Can't Get Up)
12 Figures in a Landscape No. 8
13 Walk Away Renee (Bob Calilli, Mike Brown, Tony Sansone)

Performed, engineered and produced by 391 at Waterden Studios, Larbert
All tracks by 391 except where indicated above